Cafe Hours
Friday Dinner: 5PM - 7PM
Saturday Breakfast: 8AM - 11AM
Saturday Lunch: 11AM - 2PM
Saturday Dinner: 5PM - 7PM
Sunday Breakfast: 8AM - 11AM
Sunday Lunch: 11AM - 2PM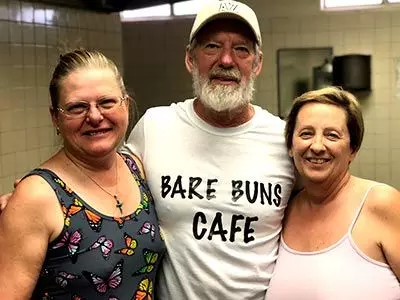 Bare Buns Café has a friendly, welcoming atmosphere and is a great place to come and socialize, so bring your friends and family and have a great time with some great food. Shangri La residents Pat and Fran have been running the Café for about two years and take pride in everything they do. They have made Bare Buns Café a wonderful addition to Shangri La Ranch.

The Café opens on Friday night for fish fry and is open on Saturday and Sunday for breakfast and lunch. If you need an early morning cup of coffee, it is ready by 6 am. Saturday night they have a down-home country meal for $12. Home-made desserts are available for an additional $2.

The Café carries a wide range of soft drinks, tea, and coffee. If you have any special dietary needs just let Fran know ahead of time and she will do her best to accommodate you.

The Bare Buns Café is here to help make your visit to Shangri La Ranch a pleasant one. Come in and see Pat, Fran, and Linda, they greatly appreciate your business.